I love the short game in golf. There's no question that striking a full shot is satisfying and momentarily rewarding, but quite frankly there's a certain sameness to it that fails to hold interest very long. The short game, though, is predicated on variety. Chips, pitches, bunker blasts, bump-and-runs, digging a ball out of the collar of rough a dozen feet from the pin--every shot is different, every shot makes you think, and every shot really, really counts. And then there is putting, which is the most nerve-wracking of all.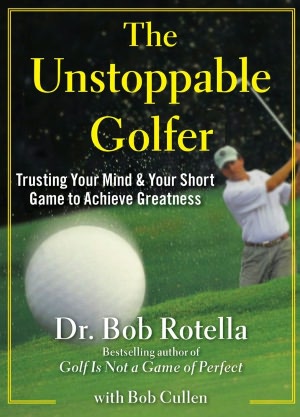 In
The Unstoppable Golfer
, Dr. Bob Rotella, golf psychologist to stars like Keegan Bradley, Padraig Harrington, and Darren Clarke, says, "...nearly all golfers have the physical ability required to pitch the ball, to chip it, to putt it. If we're not doing those things, It's because we're somehow stopping ourselves." In other words, we get in our own way.
Rotella says it's often fear that crowds our minds, pushing and shoving its way and calling out for negative images, contradictory swing thoughts, and herky-jerky responses. The solution? To achieve a state of calm by focusing on one thing: the hole.
He couldn't be more right, of course. If you focus on your target, visualize the ball getting there, and commit to a play based on belief in its success, you're more than half-way to a great short game. Rotella fills the book with stories of his students (patients?) who learned to quiet their minds and let their instincts lead them to better golf. He covers no swing mechanics, but does break down how your mind should work when faced with typical short game situations like pitch shots over hazards, getting up and down from a bunker, and lining up long putts to go in rather than just lag close. He has a special section on the "yips" in which he discounts the theory that there's some physical cause behind them but offers instead a solid, results-proven method to mentally overcome them.
The short game is the scoring game, according to nearly every golf guru I've ever talked to. You can drive the ball 340 yards, but if you can't get it in the hole, you can't put birdies and pars on your scorecard. Dr. Bob's book will help.
Among many other books, Dave Donelson is the author of
Weird Golf: 18 tales of fantastic, horrific, scientifically impossible, and morally reprehensible golf