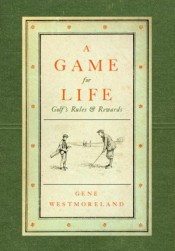 Gene Westmoreland writes about more than just the rules of golf in
A Game For Life
, his collection of essays about a subject he knows better than just about anybody. The book, proceeds of which will be donated to the
MGA Foundation
, gives us not only insights in the sometimes bewildering rules of the game but also into what makes it one of the best ways to enhance your life.
That may sound like heady stuff, but Westmoreland is anything but a stuffy philosopher. His writing is easy, his approach to the subject is thorough without being pedantic, and his outlook on the game is not so much reverntial as appreciative. He makes a great case for playing by the rules but doesn't hesitate to loosen them up a bit to make the game more fun for duffers just out to enjoy a walk in the sunshine. I've played a round or two with the man, and can attest that his attitude toward the game made every one of them a pleasure.
That attitude carries over into Westmoreland's explanation of the rules of golf, most of which are not only spelled out in clear English but illustrated with incidents many of us have seen either in person or while watching the pros on TV. He does this particularly well in situations that can be rather confusing, like encountering loose obstacles in a hazard. Can you move them? No. Are you penalized if you move, say, a twig in a bunker during your swing? Again, the answer is no. Westmoreland points out, though, that your "swing" doesn't include your backswing! So, if you touch that twig during your takeaway, you've added two strokes to your score. He illustrates the concept by recalling the penalty Brian Davis called on himself during a playoff with Jim Furyk at Harbour Town:
"The TV announcers correctly quoted Rule 13-4, but misunderstood the definition of a stroke, for while it is okay to touch a loose impediment during the stroke, Brian touched it on his backswing."
Nearly every rule examined in
A Game For Life
has a real-life example that makes it easier to understand and Westmoreland's career in the game has given him thousands of such examples from which to choose. He has been an active member of USGA Championship Committees, serving as co-chairman of the 2004 U.S. Amateur and the 2006 U.S. Open. His service as the Metropolitan Golf Association's Tournament Director for many years (among other accomplishments) led the MGA to christen the trophy for its premiere event, the Met Open, the Westmoreland Cup. In
A Game For Life
, Gene Westmoreland speaks with both common sense and authority.
Among many other books, Dave Donelson is the author of
Weird Golf: 18 tales of fantastic, horrific, scientifically impossible, and morally reprehensible golf