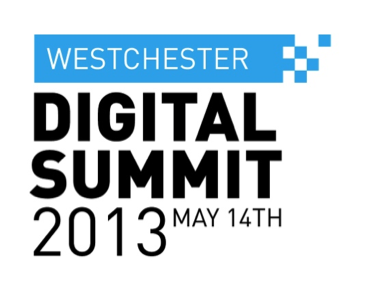 The inaugural
Westchester Digital Summit
will be held on Tuesday, May 14, 2013, according to organizer Chris Dessi, CEO and Founder of
Silverback Social
. The event has been named by Forbes as on of the "Four Lesser-Known Conferences That Deserve Your Attention in 2013." The summit will be a global gathering of the most innovative minds in the digital economy today, bringing celebrities, global digital marketers and the most compelling industry personalities impacting the digital world today to Westchester County Center in White Plains, New York.
With an impressive roster of speakers and presenters including Brett Prescott, Global Marketing Strategy at Facebook, Shripal Shah, Senior Vice President & Chief Strategy Officer at The Washington Redskins, Josh Glantz, VP & General Manager of Publishers Clearinghouse Online, Brandon Steiner, Founder and Chairman of Steiner Sports, Geoffrey Colon, Vice President Social @Ogilvy, Sandy Carter, Vice President for Social Business and Collaboration Solutions, IBM, Michael DiLorenzo, VP of Social Media,
Rue La La
; Rick Burnes, Product Marketing Director,
HubSpot
; New York Times and Wall Street Journal best-selling author Gary Vaynerchuk; and digital media impresario, author and educator David Kidder, the innovative summit will bring attendees face to face with the digital change makers of today.
The Westchester Digital Summit will feature a panel discussion led by powerhouse media personalities Dari Alexander, Fox News Anchor and Author; Ed Butowsky, Managing Partner,
Chapwood Investments
; Jeff Pearlman, author and Sports Illustrated contributor; and Mike Edelhart, CEO, The Pivot Conference, SVP and Chief Digital Strategist Shripal Shah of The Washington Redskins where they will tackle how digital marketing is changing the face of traditional media.
Silverback Social is producing the summit in conjunction with Zanzarella Marketing Consultants. Embracing the drastic change in the way that we, as a culture, aggregate and disseminate information, Silverback CEO Chris Dessi was inspired to organize an event that could offer marketers the proper tools to engage with their clients like never before.
"Through my public speaking endeavors, I have been asked to share my techniques for efficiently engaging in social media at some of the biggest and most celebrated conferences in the country and I see first hand that they are all concentrated in cities. No opportunity exists in suburban areas like my hometown of Westchester," Dessi explains. "I took it upon myself to create this opportunity for the many local business owners and entrepreneurs that truly stand to benefit from having this caliber of knowledge and insight right in their own backyard. This was the inspiration for the summit, and it will change the face of business in Westchester forever."
The Westchester Digital Summit will begin at 10AM on Tuesday, May 14th, and will continue throughout the afternoon with panel discussion and keynote speakers. General Admission Tickets are currently $215, with student admission beginning at $35 and sponsorship opportunities available.
Dave Donelson distill the experiences of hundreds of entrepreneurs into practical advice for business owners and managers in the
Dynamic Manager's Guides
and
Handbooks
, a series of how-to books about
marketing and advertising
,
sales techniques
, and
management strategy
.